On the morning of June 6, a NASA crawler transporter left the gates of the Vehicle Assembly Building (VAB) at Cape Canaveral. Its task is to deliver a mobile launch platform with a superheavy SLS rocket to the LC-39B launch pad.
New attempt to refuel SLS
This is the second SLS trip to the launch pad. The first time it visited there was in the spring. The purpose of the operation was a dress rehearsal of the launch. Within its frames, the rocket was planned to be refueled, after which the engineers had to work out the pre-launch countdown procedure.
Unfortunately, due to a number of technical problems, specialists have not been able to complete the refueling procedure. As a result, the SLS was returned to VAB for maintenance and replacement of faulty components. 
After the repair was completed, NASA management decided to retry refueling the SLS. Currently, this operation is scheduled for June 19.
NASA Crawler Transporter
The crawler transporter used for SLS transportation was built back in 1965 for the needs of the Apollo program. Its length is 40 meters, width — 35 meters, weight — 2700 tons, maximum load capacity — about 6 thousand tons. Transporter consists of a platform on four trolleys, each of which is equipped with two tracks. At the moment of its creation, it was the largest self-propelled machine in the world.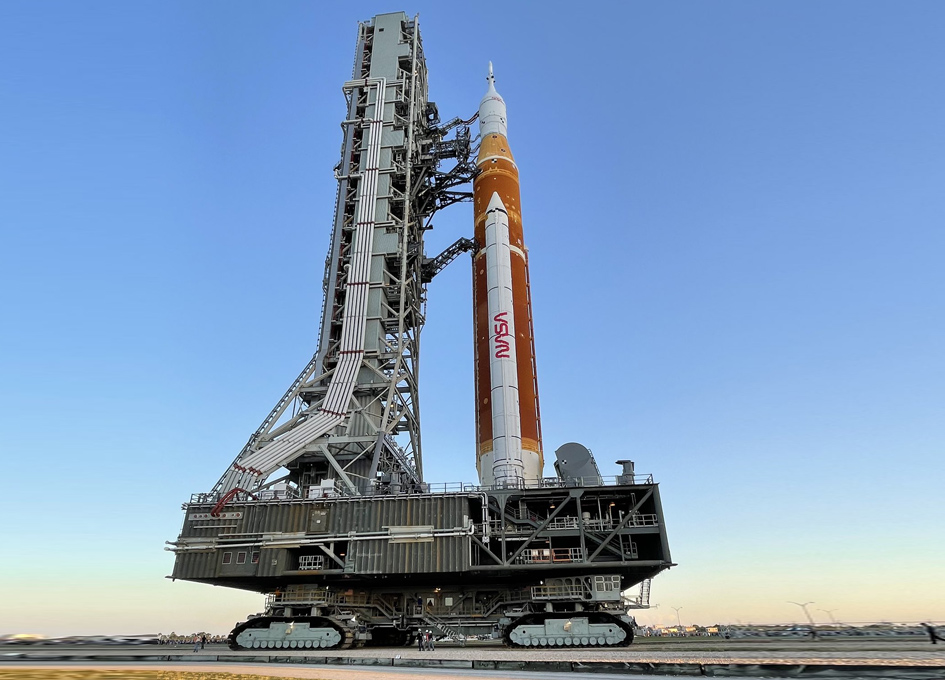 In total, NASA has two mobile transporters bearing the unofficial names Hans and Fritz. For almost 60 years of their service, they have traveled a distance exceeding 5,500 km. In order to overcome the 6.8-kilometer distance separating the VAB and the LC-39B launch pad, the transporter takes from 8 to 12 hours.
According to https://spaceflightnow.com
Follow us on Twitter to get the most interesting space news in time
https://twitter.com/ust_magazine