Russia has transferred combat helicopters to the airfield in Berdiansk. This is evidenced by satellite photos of Planet Labs. According to experts, this is due to the success of the Ukrainian Armed Forces in this area.
Russian helicopters in Berdiansk
The project "Radio Liberty" "Schemes" published satellite photos of the American company Planet Labs. They date back to June 13, and they show a military airfield in Berdiansk occupied by the Russians, and they clearly show the combat helicopters located there.
In total, 27 vehicles can be counted in the pictures. 5 of them are Ka-52. These are modern attack helicopters. 9 — Mi-8 or Mi-24, which are already largely obsolete. Another 13 belong to the Ka-29. These helicopters are mainly used as transport, but can take on weapons.
Interestingly, of the 27 vehicles listed, 20 arrived at the airfield recently. This can be easily seen if you look at the previous photos dated May 31. There are significantly fewer helicopters on them.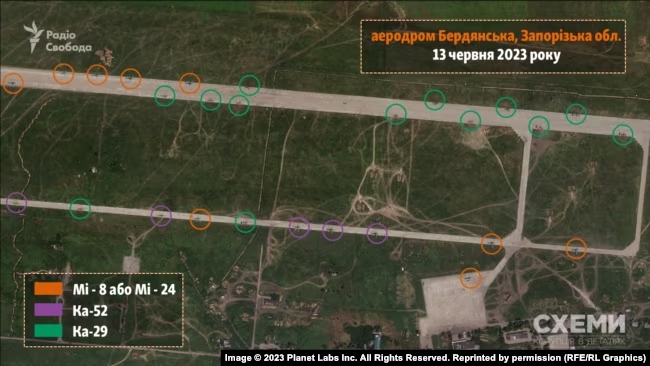 What makes Russians to be active
Previously, private satellite companies have repeatedly published images of Russian aviation. In particular, they monitored the activity of strategic aviation over the Arctic Circle and the appearance of new fighter planes at the airfields of the Voronezh and Kursk regions. There were also helicopters in the pictures. However, then it was Chornobaivka and the airfield in the Pskov region and these vehicles were destroyed.
The current photos do not represent something unique, but the question arises, what does the movement of equipment recorded on them mean? Here, military experts more or less agree that this is due to the successes that Ukraine has in this area.
According to www.radiosvoboda.org
Follow us on Twitter to get the most interesting space news in time
https://twitter.com/ust_magazine