In anticipation of the Ukrainian counteroffensive, the Russians built a dam and flooded the suburb of the occupied city of Tokmak. This is reported by the Bellingcat agency with reference to satellite images of Planet Labs.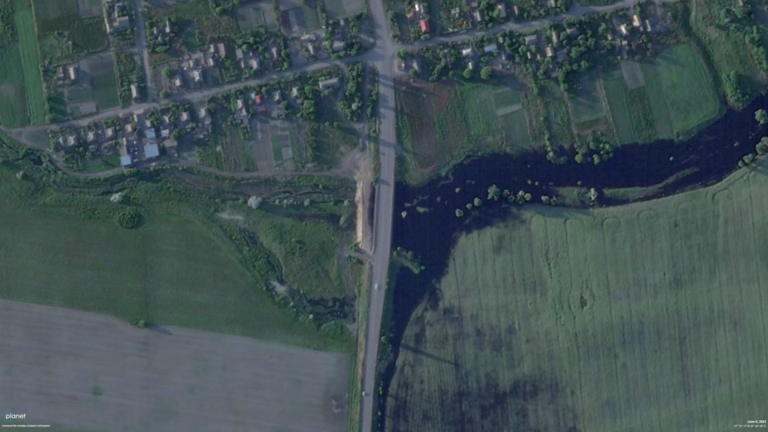 Russia floods the vicinity of Tokmak
On June 29, the Bellingcat agency published a report that Russia had flooded fields near the occupied city of Tokmak in Zaporizhzhia oblast. In support of their words, they cited satellite photos provided by Planet Labs.
The Kharkiv Human Rights Protection group reported a few weeks ago that the occupiers began to build a dam near Tokmak. New photos confirmed that on the northern outskirts of the city, the occupiers really began to build a dam in early May. It blocked a small Tokmachka river, which flows in this area.
The images from June 6 clearly show that tire tracks were left on the sand dam, which indicates that it is used as a bridge on par with what exists nearby. The same photos show that the Tokmachka in front of the obstacle has overflowed and flooded the surrounding fields.
Attempt to prevent the Ukrainian counteroffensive
All experts agree that the main purpose of the construction of this dam is to prevent the advance of Ukrainian troops during the counteroffensive. The use of such tactics became commonplace during a large-scale invasion. An example here is the flood on the Irpen River, created in order to protect Kyiv from the advancing Russian troops.
In turn, the Russians, for the same purpose, exploded the Oskil reservoir dam in the Kharkiv region when retreating from there. Then the catastrophic consequences of the flood were mostly avoided. However, when the occupiers did the same with the Kakhovska hydroelectric power plant, the whole world felt the consequences.
So far, the fighting is being conducted at a distance of 20-25 km from the dam. We can expect that when they approach, the Russians will explode this structure. Experts say that this will not have a big impact on the environmental situation in this area.
According to www.bellingcat.com
Follow us on Twitter to get the most interesting space news in time
https://twitter.com/ust_magazine