It is impossible to look without tears at the unshakable Ukrainian city of Bakhmut, which is now in a combat zone where the Ukrainian army is resisting aggression by Russian troops. But the scale of destruction in the city during the year of hostilities is so serious that it has become noticeable even from space.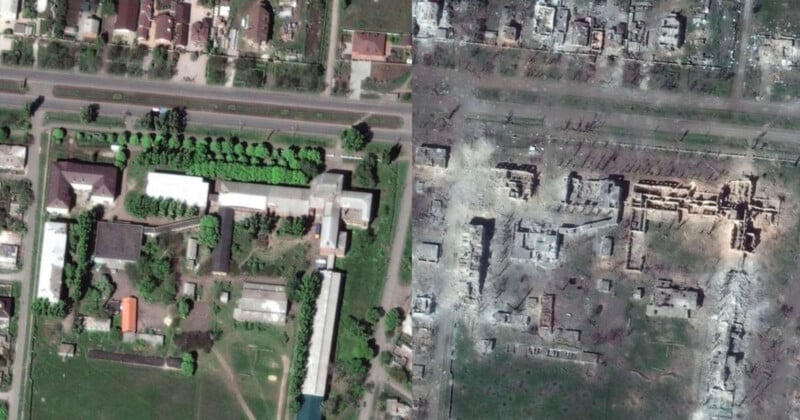 "Ukrainians have not given up their defense of Bakhmut and the Russians haven't given up their attempts to take Bakhmut. Every single day, the lines change back and forth. I mean, sometimes block by block," commented White House National Security spokesman John Kirby.
Satellite images published by Maxar Technologies show the scale of the destruction in Bakhmut. The first image, taken in May 2022, shows an ordinary municipality, and the second, taken a year later in May 2023, shows significant destruction caused by shelling and heavy artillery attacks.
The pictures show in detail the rows of apartment buildings, schools and other buildings completely destroyed as a result of Russia's aggressive war against Ukraine. Green areas have turned brown from smoke billowing from some buildings that are still smoldering after recent shelling.
Today, the Reuters news agency reported that the occupying Russian army was retreating from Bakhmut while Ukraine was preparing for the largest counteroffensive in the last six months. This happened after Ukraine had been on the defensive for six months, withstanding a powerful offensive by Moscow, which brought them only a slight advance of several hundred meters.
Deputy Defense Minister Hanna Maliar reported that the Defense Forces had already managed to liberate about 20 square kilometers in the north and south of the suburb of Bakhmut. Now the Ukrainian Armed Forces are moving in the direction of Khreshchenivka and can cut one of the main supply routes of the enemy.
Earlier we reported on how Maxar Technologies showed the destruction of the village of Opytne near Bakhmut.
According to Peta Pixel
Follow us on Twitter to get the most interesting space news in time
https://twitter.com/ust_magazine